How to: Create a Hull with Sketchup

Hi!
I realized this brief tutorial to explain how to make the hull of a boat in less than ten minutes, and how to apply the texture, using Sketchup.
The final result will be this: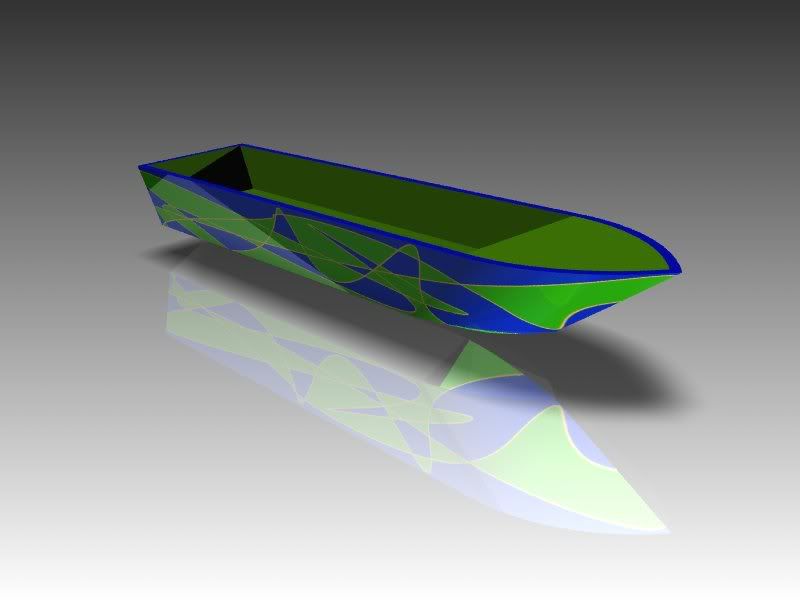 First you have to make a rectangle extending one side for several meters.
Then connect using the "arc" button the end of the line with the opposite corner of the rectangle and realizes the curve.
Using the "drag" button rise the figure to a height achieved as desired.
Then with the "move" button move forward in the bow of the boat in order to give inclination to the bow itself.
The same operation is done with the side.
After this, perform keel with the use of the instrument "follow me", drawing a triangle stern and dragging it up to the bow. Then correct lines out of place and erase the triangles in excess. Now we need to create the inside of the hull, remembering that in Sketchup there are two faces for any figure and VS7 will only show faces of beige color and not the purple ones.
Then you have to draw a second internal hull and closes.
At this point we have to color the hull.
Through an application like Photoshop realize the texture, size does not matter, but the height must be at least 1 / 3 of the width. (I created an image to 2000 x 400 pixels).
Must then import the image into Sketchup, adjust it with measures of the hull using the "scale" button and then select "fill", click on imported with the right mouse button and select "explode" then, while holding the ALT key, point the rectangle and color the hull with the "fill" button.
At this point save the project and open the application Deep Exploration, open the project just made, and save as ".x" file in the folder of the boat in VS7.
Below is available the video that shows step by step how this plan is realized:

Click here too see the video.
.

Hope to be helpful,
greetings, Chaim Waibel