I just started experimenting with 3D roads. Well, at least with using the track object type with road images rather than train track images. Road tracks work fairly well for getting roadways onto slopes of hills or mountains without have steep lateral inclines.
Here's a typical VSF road. Since roads are flat and follow the terrain contour, it makes for a rather chaotic drive:
Here's with a new road image but named to allow it to be a track (track_xx.jpg) in order to take advantage of elevated sections: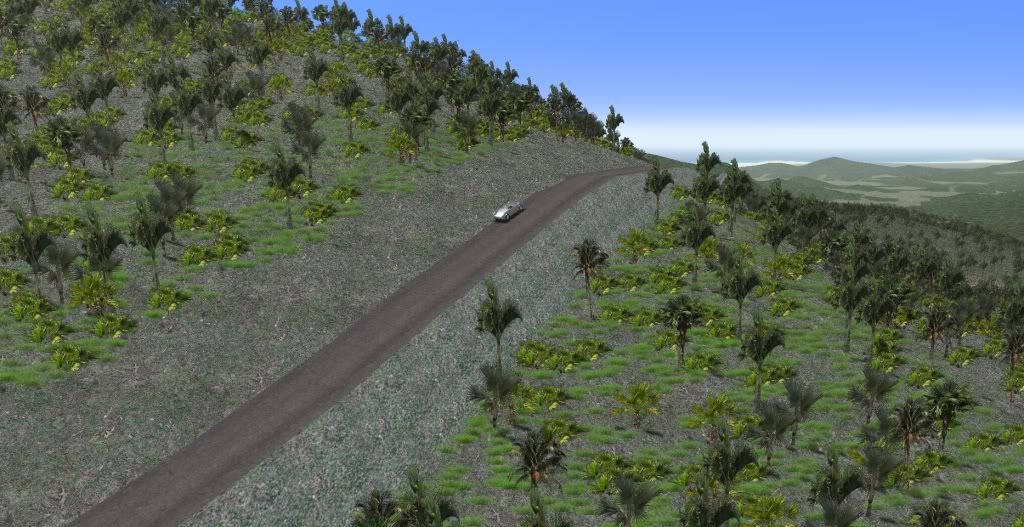 Some things I've picked up along the way:
1) Along with changing the slope angle, changing the angle parameter of a track object also changes the elevation of the road track.
2) The track angle object parameter of the road track should be set higher for roads going around large hills/mountains (~ 1.0-2.0) and smaller for smaller terrain features (~0.2-1.0)
3) Connecting flat roads to road tracks or tracks of varying angle (elevation) will leave elevation gaps in the road surface. Ramp objects will have to be used to connect these sections.
4) Road tracks need to include a shoulder to allow it to render correctly (road surface on top with an embakement on the sides).
5) Don't include the word "road" anywhere in the track object texture filename (example: track_road.jpg). VSF will default to using this as a road, not a track. Strange but true.
6) FInally, I consider this more of a work around fix for roads. It would be great if VSF had a feature to allow roads to calve out the terrain (and to allow tunnels, placed over objects like bridges, and so on).
Besides the above screenies, I took this one of another texture I made which features a gravel shoulder: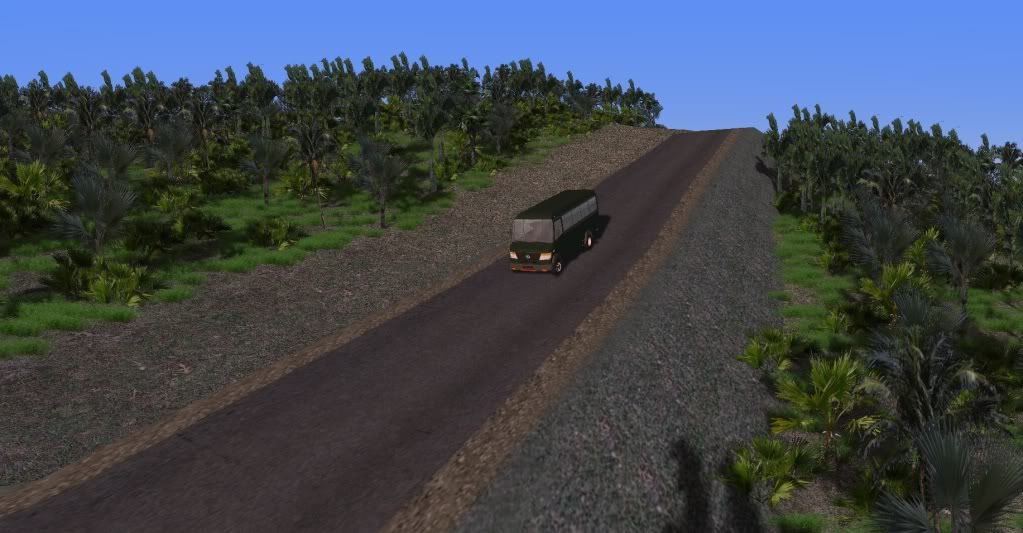 Here's the texture:
A typical object parameter using this texture (like in the above screenie) looks like this:
track_md.jpg -66.723671 18.473915 1.5 3.119787 28 1467.814271 0
Feel free to use the texture for your own experimenting. I'm thinking of coming up with several different types with varying embakement textures.
Regards,
Mark